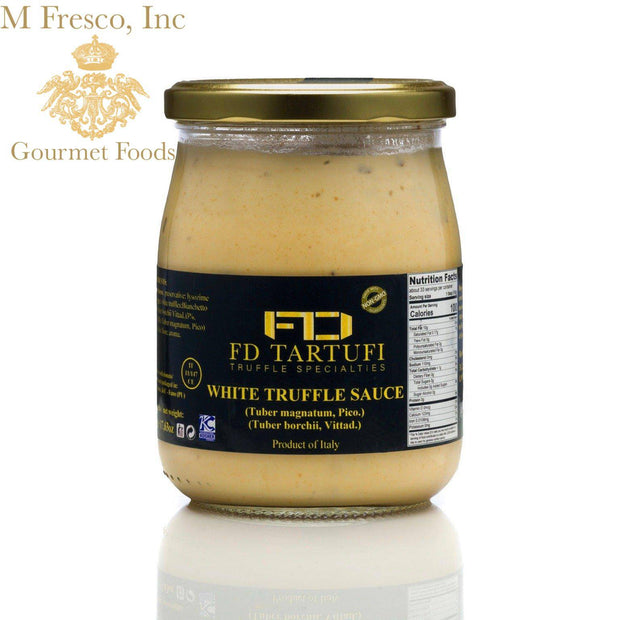 White truffle sauce: delicate, tasty, fun. It is the perfect seasoning to recall the aromas of truffles, with the right balance.
Kosher certified

non-gmo

Product of Italy

Imported
The truffled sauce can be used in pasta, risotto, or as a filling for fresh pasta, but also as a sauce for white sauces.
The two sizes of the jars give you maximum freedom in the use and in the number of diners: the smallest, 2.82 oz perfect for 3-4 people, and the jar of 17.65 oz for a group dinner up to 35. In any case, once opened, the truffle sauce is kept in the refrigerator for up to 7 days: it is sufficient to cover it with olive oil. 
Ingredients:
76% cream, cheese, lysozyme, white truffles: Bianchetto truffle (Tuber Borchii Vitt.) 3% and white truffle (Tuber Magnatum, Pico) 1%, salt, rice flour, Aroma.
The ingredients of this royal sauce are 100% Italian certified, none of which is obtained from Genetically Modified Organisms. Our products are all certified non gmo.
Sauce: tips for use
This royal sauce can be consumed at room temperature or heated; in this case, heat it in a saucepan with a drizzle of EVO oil, preventing excessive heat from changing its aroma.
the Royal Sauce is often used to strengthen the smell and taste of dishes made with either white or black Truffle.
The dressing goes very well with pasta, butter, Parmesan cheese, cream, and béchamel, but also with white meat.
Cream and cheese-based sauce with truffle. Excellent product for seasoning first courses (pasta).